http://abcnews.go.com/blogs/headlines/2011/12/anger-builds-over-tow...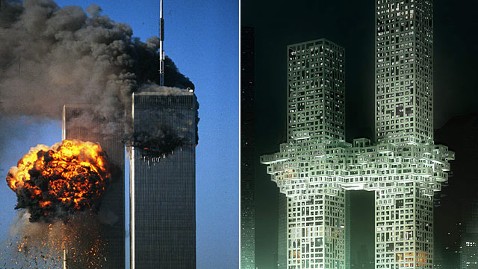 Dec 12, 2011 3:13pm
Anger Builds Over Tower Design Resembling 9/11 Explosion
A new building design created by Dutch architectural firm MVRDV is angering people who say the structure evokes the World Trade Center attack during 9/11.
The new luxury building, slated for completion in 2015 in Seoul, South Korea, will featured a "cloud" connecting two towers at the 27th floor.
But some say that The Cloud, which will feature a large connecting atrium, a wellness center, various pools, restaurants and cafes, looks far too similar to the explosion at the World Trade Center on 9/11 after two planes flew directly into the twin towers.
"A real media storm has started and we receive threatening emails and calls of angry people calling us al Qaeda lovers or worse," the company posted on its Facebook page.
Hundreds of outraged commenters took to the company's Facebook page, such as Lance Henley, who wrote, "It looks like the WTC exploding on impact, how could anyone be such a moron…if it goes up it'll come down just as fast."
But others suggested the comparison was far-fetched.
"Everyone should remember that the World doesn't revolve around the US or 9/11. They have their own things going on to think about and worry about to honestly remember what the buildings looked like coming down and all that. Stop acting like the world revolves around the US," wrote Ricky Arellano.
The Cloud was reportedly inspired by a drawing of two towers with a cloud covering the center of the skyscraper.
On their website, the company wrote, "MVRDV regrets deeply any connotations The Cloud projects evokes regarding 9/11."
"It was not our intention to create an image resembling the attacks nor did we see the resemblance during the design process. We sincerely apologize to anyone whose feelings we have hurt, it was not our intention."