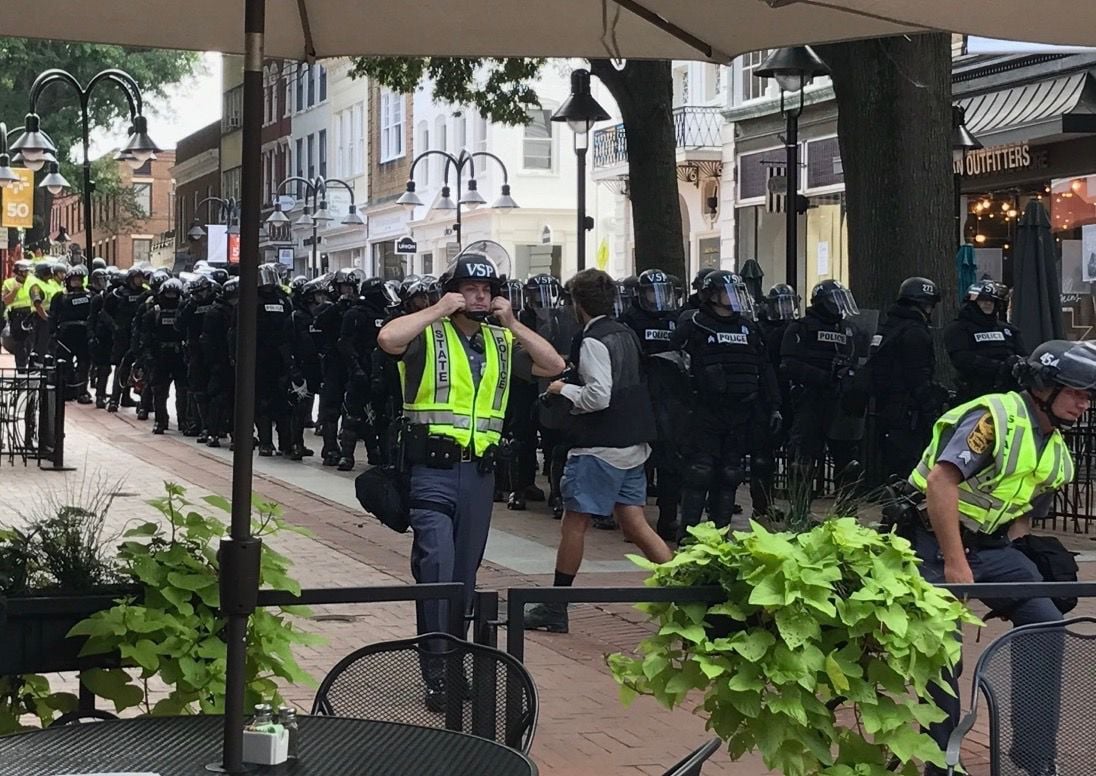 ---
A few months ago, Cecilia Rodi found herself seemingly suspended upside down in mid-air, just before landing with a thunk on the hood of a white SUV at the intersection of Fourth and Water streets.
It was May, not August, but the moment was a fitting denouement to the emotionally topsy-turvy year that has passed since another vehicle plowed through that same intersection, shattering lives, endangering livelihoods and robbing "America's Happiest City" of its sense of innocence.
"I'm thinking to myself, 'Are you sh*itting me? How can this be happening?'" Rodi said in July from the patio of Rapture, the Downtown Mall restaurant she and her husband, Mike, own. The restaurant is just a few dozen yards from the intersection now seared into Americans' collective memory by nonstop cable TV footage of Aug. 12.
At 11:30 the morning of Aug. 12, state troopers were eating brunch on the Rapture patio. Suddenly, they jumped up and raced off en masse, leaving their half-eaten food on their plates.
"Shut it down!" one of the troopers shouted to Rodi as he ran out. That was the first moment the Rodis finally capitulated and closed their business to the public for the day — after ignoring months of intimidating threats from white supremacists, as well as warnings from concerned citizens, who had urged them to shutter for the Aug. 12 Unite the Right rally.
She recalled hustling the remaining brunch patrons — with their mimosas still in hand — off the patio as troopers in riot formation marched past to disperse AR-15-toting militia members gathered at the nearby fountain.
Although they closed their doors, the Rodis continued to allow police, journalists, existing customers and staff to huddle in the restaurant for safety as the situation outside continued to escalate.
Just after 1:41 p.m., the troopers' radios crackled, and they sprinted out the door again, heading toward Fourth Street.
Mike Rodi suddenly saw a "massive" swarm of people running his direction, screaming.
"I assumed it was an active shooter, so I immediately started grabbing people and pulling them in the restaurant and herding them into the back room," he said.
He then ventured outside and saw a street littered with bodies and loose teeth, he said. "It looked like 20 to 30 bodies to me," he said.
Among those huddling in the back of the restaurant were a Nepalese woman, who spoke no English, and her 6-year-old daughter, who, despite displaying symptoms of shock, spoke the language perfectly and knew exactly what she had just witnessed.
"The little girl kept asking if the people on the ground were going to be OK," Cecilia said. "She said she saw it all: The car, the people flying, the bodies on the ground. She saw everything."
Cecilia said she was able to hold herself together for a few hours while she calmed the little girl and helped her process the ordeal.
"But after they left, that's when I went down to the basement and broke down," she said. "I couldn't stop crying."
At the west end of the mall, two people who had narrowly escaped the Dodge Challenger's path stumbled into the Whiskey Jar, where they had once worked as servers.
The Jar's owner, Wilson Richey, could barely understand his ex-employees.
"They came in just shaking and yelling and screaming," Richey said. "They were in shock; they just weren't themselves at all."
The restaurant had been full of reporters who were charging their devices and filing stories with their editors. "At that point, every reporter in the room just got up and ran toward Fourth Street," Richey said.
The Jar closed at 5 p.m. that day, after a man with a swastika-tattooed forearm sat down and ordered dinner.
"We let everybody finish their meals and then we just didn't serve anyone anymore," Richey said. "My thing is just avoiding trouble for the staff's sake."
An hour or so later, while standing guard outside another of his nine downtown restaurants, Brasserie Saison, Richey was hit with military-grade pepper spray, which police had been using on anti-fascist protesters who were blocking the evacuation of an injured white supremacist.
That evening, after Cecilia Rodi was escorted to her car for safety, she drove home, put her children to bed and locked every single door and window in the house. "It wasn't OK," she said. "It still isn't OK. It's probably a little PTSD, but we don't even have time to deal with that."
In the 12 months since the Rodis, Richey and others watched neo-Nazis and armed militiamen "invade" their town and their businesses, the fellow downtown business owners have banded together to keep their stores and restaurants afloat and to try to prevent a second violent rally.
In an interview with National Public Radio the week after the attack, Mike Rodi laid out his perspective:
"They got what they wanted. They came here, they hurt us, they scared us and they killed us. So, I think we need to go forward and say to this group when they try to get a permit, we must not even concede that they are legitimate political groups. They are terrorists. That is what they've shown us. They are coming here to hurt us, and we have a right to defend ourselves," he said.
To that end, Rodi involved himself in city affairs, lawsuits and legislative efforts, including Democratic state Sen. R. Creigh Deeds' bill to allow Charlottesville and Albemarle County to prohibit firearms in public spaces, as a few other Virginia municipalities are permitted to do.
In February, the bill died in committee, with the vote falling almost exactly along party lines.
Two bills penned by Democratic state Attorney General Mark Herring — one dealing with restricting militias and another intended to help combat white supremacist groups and other extremists — also failed.
Another Deeds bill would have allowed localities to prohibit the wearing of clothing or carrying of weaponry that gives the impression one is an active military member. That, too, failed.
Rodi and Joan Fenton, president of the Downtown Business Association of Charlottesville, also pushed the City Council in October not to renew City Manager Maurice Jones' contract until after the independent report by former U.S. Attorney Tim Heaphy was completed — an effort that may not have been necessary.
Jones was notified in May that his contract would not be renewed, months after the Heaphy report detailed shortcomings in the police and city response to the rally.
Jones' departure was preceded by the resignations of the city, state and University of Virginia police chiefs and the city attorney in December, and of the city spokeswoman in October.
Rodi also joined at least one lawsuit to prevent similar organized activities in the future.
That suit reached final settlement in mid-July, with 19 consent decrees and four default judgments prohibiting various groups, including Jason Kessler and Redneck Revolt, from coordinating armed demonstration activities in Charlottesville.
Meanwhile, as the waning weeks of last summer and then autumn ticked by, Richey, the Rodis and other downtown business owners watched their revenue plummet — and debts mount — as tables seemed to sit empty and inventory went unsold.
Last July already had been a slow month, thanks to the July 8 Ku Klux Klan rally, Richey said. And then Aug. 12 happened.
"The Whiskey Jar was my litmus test, and it was off $20,000 from the previous July. And then August was considerably off, and then September was off," he said. "Fall is the season when you put on fat to get through the winter, and the season just never happened."
Things did not start to pick up again until February, he said.
As a result, many of Richey's nine restaurants maxed out all their lines of credit and all of their overdraft protection, he said.
Worse, the debts would normally be repaid by now. Instead of the anticipated autumn revenue fattening the coffers for the barren winter months, it will have to be used to pay off debt.
"It just can't happen again. A lot of [downtown businesses] are in the same boat as I am — our lines of credit are maxed out," Richey said. "If anything even close happens again, it's going to kill off a lot of businesses."
Fear and grief may have kept some away from the Downtown Mall in the immediate aftermath, but business owners also believe they were impacted by new parking meters (which were removed almost as quickly as they were installed) and by a "Boycott Charlottesville" Facebook page, which has collected nearly 2,200 followers and remains active.
"There are people who support the Confederate statues, so they want to boycott Charlottesville. There are people who are mad at City Council and the way it's run, so they want to boycott Charlottesville," said Fenton, the DBAC president. "It's misplaced anger, but to them, we are the face of Charlottesville."
Moreover, Fenton said, there was a long stretch of time when the only Google results for the word "Charlottesville" were images of the Unite the Right mayhem. "If you think 'Ferguson,' what do you think of? If you think 'Charlottesville,' what do you think most people think of?" she said.
For the rest of the summer, Fridays After Five became a non-event, from Mike Rodi's perspective.
"We went from using five or six servers to needing maybe one, two at most," he said.
In contrast, revenue from vendor sales at the Friday events did not drop off noticeably, according to Kirby Hutto, who manages the Sprint Pavilion for Red Light Management.
"But Fridays After Five is just such an institution; it's part of people's DNA," Hutto said. "Half the crowd doesn't even know who the band is, and they still come, so we're a little bit immune."
According to new calculations from the city's economic development office, the Downtown Mall actually fared a little bit better than the city overall between last July and this April.
While retail sales tax revenue in Charlottesville dropped 1.34 percent over that period compared with the same period the year before, revenue from the mall increased a little less than 1 percent.
That said, the mall took a 12 percent hit in revenue last September, while city sales tax revenue overall dropped 8.35 percent during that period.
Fall revenue from the mall did bounce back, but perhaps not enough to rebound from the 12 percent setback, and then the winter months were even slower than usual, according to the data.
The downtown business association asked the city for a $250,000 recovery package to support a marketing campaign, infrastructure upgrades, office space and support staff.
In March, the city agreed to provide $75,000 in response to that request and promised to improve communications, update signage and add security cameras. The city also plans to include $94,000 in next year's budget for lighting improvements.
If there was any bright spot to emerge after the events of last summer, it may have been this:
"The businesses down here dedicated ourselves to helping each other and bringing back the multicultural feeling of the Downtown Mall," Mike Rodi said.
The business association will be launching the new marketing campaign shortly, Engel said, "to provide a fresh face and compelling reasons for people to visit the mall."
Or, as Fenton put it, "We're trying to remind people why they loved the mall in the first place. If you ask people what their favorite place is to visit in Charlottesville, it's the Downtown Mall. If you ask them where they like to take a walk, it's the Downtown Mall. If you ask them why they moved to Charlottesville, it's the Downtown Mall."