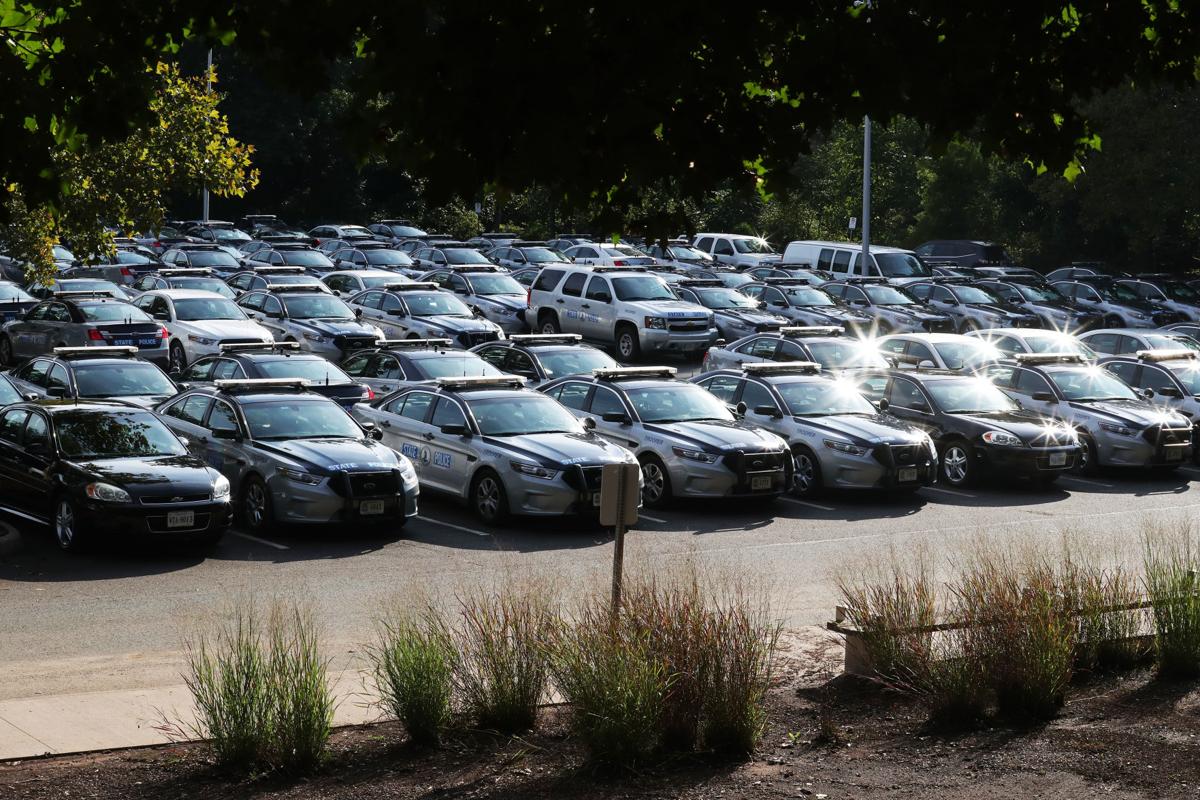 Extensive restrictions on pedestrian and vehicular traffic around downtown Charlottesville worry area activists who have scheduled services and events in the area to mark the anniversary of last year's violent Unite the Right rally.
The city also has banned anything that could be construed or used as a weapon, from glass bottles to camera tripods. Police will either block off or man blockades at all downtown intersections between High Street and Water Street, from McIntire Road/Fifth Street to Avon Street.
Only two police-manned checkpoints will be available for pedestrians seeking access to the Downtown Mall and Market Street and Court Square parks. Police have said they will confiscate any banned items.
An estimated 700 Virginia State Police personnel are expected to join more than a hundred local police and up to 300 Virginia National Guardsmen are in the area or ready to be mobilized.
"Last year, I was terrified of violence from the Nazis, and this year I am terrified of violence from the police," said Lisa Woolfork, associate professor of English at the University of Virginia and an organizer with Black Lives Matter Charlottesville.
"We are seeing an overwhelming show of force to compensate for last year's negligent police inaction," she said. "For black and brown folks and other marginalized people, we know this police presence only increases our risk."
"This state of emergency is an over-compensation for the failures of the state last year," said the Rev. Brittany Caine-Conley, an organizer with Congregate Cville. "We know, statistically, historically and anecdotally, that state repression and violence overwhelmingly affect marginalized communities. This militarized landscape will only do more harm to those who have been most significantly wounded in the past year."
Although white supremacist organizations have not officially scheduled any events in the area, police and activists have expressed concerns that some may show up on the anniversary.
Throughout the day on Thursday, reports surfaced from concerned citizens who believed they saw persons resembling Nazis and white supremacists in locations from office supply stores to coffee shops.
The possibility of clashes between organized counter-protesters and white supremacists spurred Charlottesville, Albemarle County and state officials to declare states of emergency on Wednesday and authorized police to restrict access to 18 blocks of downtown Charlottesville.
In declaring its state of emergency, Albemarle County is closing its McIntire Road Office Building to parking beginning at 2 p.m. Friday through the weekend.
The parking lot will afterward be closed to public parking weekdays from 10 p.m. to 6 a.m. the next morning all from 10 p.m. Friday through the weekend to 6 a.m. Monday while the local emergency is still in effect.
"We have not closed anything in the county; however, we will be monitoring everything," officials said in a statement, adding that citizens may notice an increased police presence.
New Charlottesville Police Chief RaShall M. Brackney and members of the Charlottesville City Council were criticized Thursday for not revealing the restrictions earlier this week during meetings with residents and activists.
"There is no doubt that you knew about the pedestrian restrictions before your press conference, but held back that information so there would be little time to criticize and no time to litigate," said Jeff Fogel, a local attorney who has represented many clients in civil rights lawsuits against local police and defended several counter-protesters charged with crimes after last year's violence.
"That smacks of deception, manipulation and lies. That's why many people do not trust law enforcement and your actions have only reinforced those perceptions, which will linger for a long time," he said.
City officials did not respond to Fogel's comments, which were made in an email to the city officials.
University of Virginia student group DREAMers on Grounds, which supports undocumented students, criticized the housing of some state troopers who are staging from a UVa residence hall.
"Students have expressed confusion and worry upon seeing hundreds of cars parked in the residential dorm areas. Many are afraid of the potential of being stopped and frisked," the group wrote in a statement, adding that the fear was greater for undocumented residents.
"We also urge the removal of most, if not all, state troopers being housed side-by-side to our students' residential areas," they wrote.
UVa officials said no students were displaced to make room for law enforcement and that the university will be reimbursed for housing costs by the state.
Some area residents also said they were concerned about the possibility that emergency dispatchers and some county employees are being required to sign non-disclosure agreements.
Allison Farole, emergency management coordinator for the Charlottesville-UVA-Albemarle Emergency Communications Center, said that, generally, any person who was invited and present for regional briefings in which intelligence was shared is required to sign a nondisclosure agreement.
When asked who specifically was asked to sign an agreement, she said she would not be able to respond because of operational constraints facing her office for the upcoming weekend.
Albemarle County Deputy County Executive Doug Walker said he was requested to sign, and did sign, an agreement so that he could participate in biweekly briefings and planning sessions.
He said the agreements help to assure that sensitive information given in the meetings will not be made public before the events.
"The reasons are, I think, obvious," Walker said. "It gives some comfort and confidence that [sharing] sensitive information [won't] compromise the integrity of the public safety planning work that has been going on now for months."
The county has used the agreements in the past for confidential economic development projects and personnel matters, he said.
Daily Progress staff writers Ruth Serven Smith and Allison Wrabel contributed to this story.