Listen and follow along here (you may need to skip ahead till you hear my voice)
Truth Brigade - EPISODE609 - Scalar Weapons and ChemTrails with Spa...
Strange Shadows
April 17th 2008

Click to enlarge
Stock photos
Uneven 'Engine' Trails/Can a plane do this ?
Photos taken: April 23rd 2008

Click to Enlarge
On/Off 'Engine' Trails (stock photo)
Camera
Click to Enlarge
Planes ?
Click to englarge
Compared to 9/11 photo.
More supposed 'Planes'
January 28th 2008
April 3rd 2008
April 8th 2008
April 10th 2008
What a real plane in the distance should look like.
April 15th 2008
April 17th 2008
April 18th 2008
April 21st 2008
This compared to a well known 9/11 video.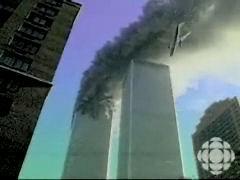 Notice the similarity ?
April 22nd 2008
April 23rd 2008
More Strange Objects on 9/11
WTC 7
PENTAGON
BIRDS ON 9/11
Bird?
Bird?
THE BIRDS:Morphing Stealth UAVs of the 9/11 Attack
Why didn't they use TV-FAKERY to cover up the UAVs ? Explained here.
Floak of Orbs.
Chemtrails on 9/11

What chemtrails really are ?
We are dealing with
Star Wars.
It involves the combination of creating an atmosphere that will support electromagnetic waves, ground-based, electromagnetic field oscillators called gyrotrons, and space based ionospheric heaters. Particulates make directed energy weapons work better.
They ionize the atmosphere of the air using
orbs
and spray a small amount of soft powders to let it photo-ionize from the ultraviolet light of the sun.
The
orb
trails have various elements in them like carbon which can be used to absorb microwaves. Some of the orbs spray soft metal flakes that make the small aerial craft invisible to radar. Spoofer sprays. Sprays like these can be used to create colorful, magnetized plasmas to cloak fighter jets.
These
orbs
are satellite weapons. Activists are using meters and are getting readings of microwaves, x-rays, and some other kind of emission that they are not sure of, maybe a low-intensity laser to ionize the air ? With this we know for a fact that Orbs have some kind of directed energy device onboard…
Then, they make an aluminum-plasma generated by "zapping" the ionized air with electromagnetic energy from the space-based lasers. Ionization of air molecules is one phase of creating lightning.
Space Based Lasers
Anti-Trail
Anti-Clouds
Back to ionized air…
The high electric potentials used to create air ions are achieved by using capacitors to develop a high voltage (c.20,000 volts), low-current charge at an electrode. Such voltages can also generate ozone and NOx which even in relatively low concentrations, may irritate lung tissues, causing chest pain, coughing, throat irritation and aggravated asthma. Not barium. This is why the mainstream media pushes the idea of planes spraying barium on us without telling us, it is a
psyop
. Using a wacky conspiracy theory to cover up the truth.
http://en.wikipedia.org/wiki/Chemtrail_ … acy_theory
Evidence of Photoshop in this 'Chemtrail Plane Up Close' video
Where is the back set of wheels ? This photo is fake.
So this ionized air (also known as plasma) is much more conductive than the previous non-ionized air. Incidentally, the ability or freedom of the electrons to move is what makes any material a good conductor of electricity.
Plasma is the tool nature wields to neutralize charge separation in an electric field.
The ionization of air or gas creates plasma with conductive properties similar to that of metals. This is why they push the barium disinfo. the more density the more particles, this means that these particles which are colliding into each other will become more charged because there are more of them present to collide. What are they ultimately trying to do up there — is create a charged-particle field, plasma beam weapons.
'Chemtrails' are the medium - Pulse radars and the various space-based lasers are the method, or more simply:
'Chemtrails' are the medium — directed energy is the method.
Electro Magnetic Bubble

Signs of an Electromagnetic Bubble/Scalar Waves
Personal Photos
April 7th 2008
April 27th 2008
May 9th 2008
Photos taken by Christie Czajkowski
Evidence of Scalar Clouds on 9/11 ?
What can orbs do ?
We know that these orbs can be used as transmitters and receivers because they have great, refractory and optical properties. They also are capable of transmitting digital or analog sound and video. The satellites can be programmed to track and monitor various areas.
This is probably what they were doing at the time of the attacks.
The beam entrained with the orb carries pictures in each just like the different frames in a movie. It is a particle beam weapon that is also a psyop frequency device. The satellites can project holographic pictures, sounds, and sensations to people through this technology. For instance some orbs have the ability to cloak themselves as birds.
NOTICE the 'chemtrail' coming out of the WTC right after the '2nd plane' hit the wtc.
Now as alot of people understand there is some controversy over the idea that a light weight 767 could fly into the WTC like a ghost.
The Air Force stated in
"Air Force 2025″
that their goal is to develop virtual and augmented reality. Depending on the how the orb is programmed or depending on the intent of the person interfacing with the technology, you can be bothered, frightened, and manipulated by means of what you think is real.
Two beams overlapped will couple into a particle-ion beam that will bounce off of a remote target and send a holographic image back to the satellite for covert operations.
Why are there no close up detailed pictures of the explosion ?
Scalar energies can dud-out electronics or cause large, electrical blackouts. it is standard practice in modern warfare to use electromagnetic jamming to disrupt the enemy's electronic circuitry . Such a temporary disruption may have been applied for a few seconds only (in order to obscure missile approach) or even during … 102 minutes to obscure also the tower collapses. Only specially anti-jamming protected cameras would function during the EW activation. Please remember that no cell-phones worked properly that day - nor did the firefighters' walkie-talkies..
IT IS A FACT THAT ALL CELL PHONES IN NYC, AND EVEN MOST OF THE EASTERN SEA BOARD WERE JAMMED. IT IS A FACT THAT ALL MILITARY PLANES WERE ORDERED TO LAND FOR ONLY A FEW MINUTES BETWEEN THE 'POOF' OF BOTH WTC 1 & 2.
Hurricane Erin & 9/11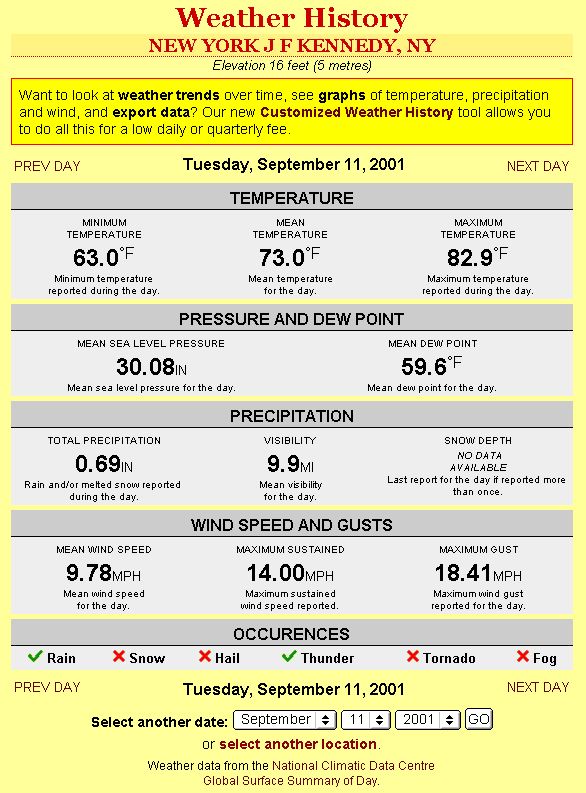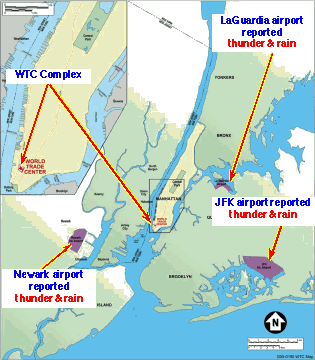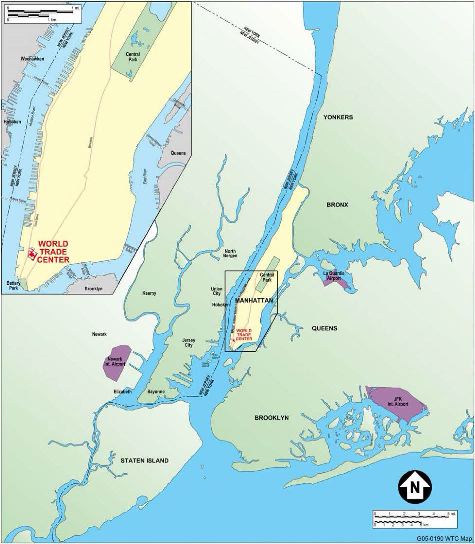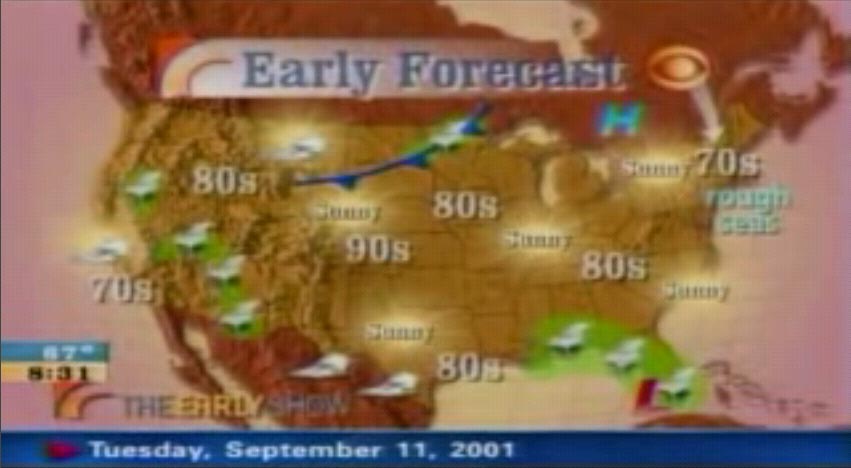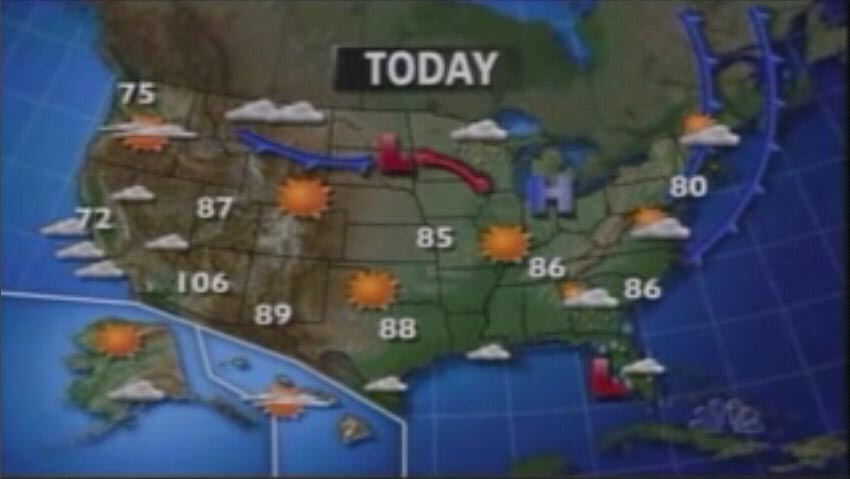 MORE PROOF OF SPACED BASED WEAPONS.
1. NASA/ISS was above NYC on 9/11
Quote:
Checking the world map on the computer, they discovered they were heading southeast out of Canada and would be passing over New England soon. Commander Culbertson rushed around the International Space Station to find a window that would give him a view of New York City, discovering the one in Tyurin's cabin provided the best view. He grabbed a video camera and began filming.
http://space.about.com/cs/iss/a/911attacks.htm
http://www.youtube.com/watch?v=lANTI2Zl ... r_embedded
2. NASA's most famous images show the United States coast with rising 'smoke' coming from New York, though they forgot to include something about 40kms off the coast of New York City.
Other examples of weather control: Katrina
Severe Weather in 2009
More to come...