Controversy stalks Sunday's 9/11 Truth Conference
A conference scheduled for this Sunday at the Urbana Free Library is generating controversy – and threats to protest or even disrupt the event.
The Midwest 9/11 Truth Conference is scheduled for this Sunday, September 22nd from 1:30 to 5 pm in the Urbana Free Library, 210 W. Green St., Urbana, Illinois. Featured speakers include Philosophy of Science Professor Jim Fetzer, former National Security Agency agent turned muckraking journalist Wayne Madsen, and Arabic and Islamic Studies scholar Dr. Kevin Barrett.
Protesters are threatening to disrupt the event with such tactics as:
*Using the Freedom of Information Act to force the Free Library to turn over all paperwork related to the event
*Harassing the sponsoring organizations
*Flooding the event with protestors to disrupt proceedings
(The above proposals and more are from the comments at the News Gazette article: http://www.news-gazette.com/news/local/2013-09-16/sunday-conference... . )
Opponents of the event claim that the speakers are "conspiracy theorists" and have even raised charges of anti-Semitism.
The event organizers have responded to the charges in detail, explaining that their only interest is the truth, no matter how politically-incorrect it may be. They add that the insulting term "conspiracy theorist" was launched into circulation by the CIA's Operation Mockingbird program as part of a mind-control effort designed to prevent Americans from questioning such obvious insider crimes as the JFK assassination.
Jim Fetzer and Kevin Barrett are the subjects of a new book by Mike Palecek called Dynamic Duo: White Rose Blooms in Wisconsin.
For more details about the event and the controversy it has triggered, contact:
Jim Fetzer, Scholars for 9/11 Truth
jfetzer@d.umn.edu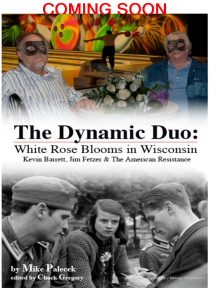 Related Posts: